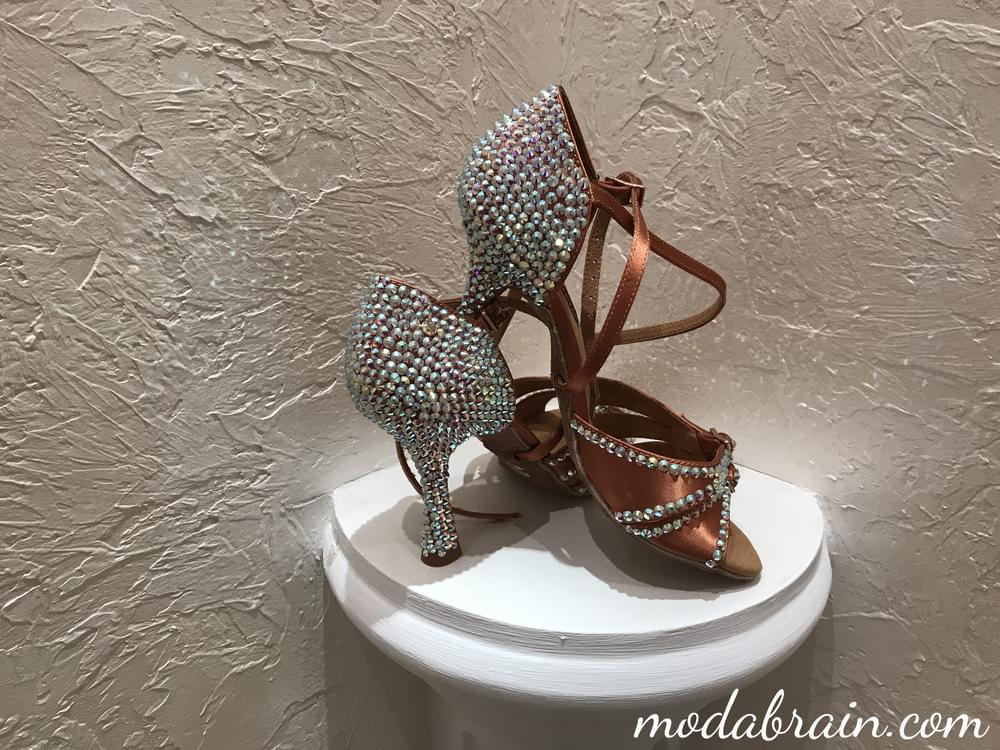 There are special events in life (a wedding or a ballroom dancing tournament) when special shoes are needed. In this article, I will tell you about how to properly and easily glue shoes or sandals with rhinestones.
Who among us has not tried on the role of a princess and who has not dreamed of the same shoes as Cinderella? But where to go in such shoes? Cinderella, for example, went to the ball in them. These shoes can be worn for a wedding or a special celebration, as well as for a ballroom or Latin dance tournament. These shoes, studded with rhinestones, will be a great addition to a stage or circus costume. They are most popular among professional dancers, singers, circus performers and other representatives of show business.
Content
Required materials
Where to buy sandals / shoes for decoration
What kind of glue is better to glue
What kind of rhinestones to paste over
How to start sticking with rhinestones
Taping the heel
Necessary materials
For pasting these sandals, I needed the following materials:
Sandals - size 38 (bought in the store "Dance fox")
AB rhinestones - size 20ss. Approximately 1500 - 2000 rhinestones, size 20ss. There are 1440 pieces in one standard pack.
Where to buy sandals for decoration
You can decorate any sandals / shoes, but most often they use special dance shoes for these purposes, which can be bought at specialized stores "Esta", "Isadora" and "Dance fox".

What kind of glue is better to glue
Hot-melt rhinestones are glued with a special apparatus that heats up the glue. Rhinestones of cold fixation can be glued with several types of glue: "Crystal", "B-6000", "B-7000", "UHU", "Textil glue Gütermann creativ HT2" or Indian white glue "Fevicryl". It depends primarily on the material of the shoes on which the rhinestones will be glued.

What rhinestones to paste over
You will have a question how and with what kind of rhinestones to glue shoes? It depends on the purpose of the shoes and on the outfit with which they will be worn. You can glue red shoes with red rhinestones, blue with blue and so on. But, most often, flesh-colored shoes or sandals are pasted with AB rhinestones or a crystal. This is the best, most profitable option. The patch may be partial or it may be complete. You can paste with stones of different sizes, randomly placing them on the surface of the shoes. You can mix crystal and AB rhinestones. But it is best to take size 20ss rhinestones and carefully seal the entire surface of the shoe. What rhinestones to choose for gluing shoes? Everyone decides for himself, to whom it is more convenient: someone likes hot-fix, that is, hot-fix, and someone likes cold-fix rhinestones more.

How to start sticking with rhinestones
If you glue the shoes completely with rhinestones, then you must definitely start sticking the rhinestones from the base of the shoes. First you need to glue the base of the shoes with a solid line, starting to glue from the inside of the shoe. And so, row after row, you need to continue gluing, trying to ensure that the strasik of the next row takes place between the rhinestones of the previous row.
If you are pasting shoes with a closed toe, then move on to pasting the toe of the shoes. We glue in continuous rows, without jumping from place to place, otherwise it will be difficult to align the lines later. Focus on the middle part of the toe of the shoes. Make sure that there are no curvature of the rows. If you have places where a 20ss rhinestone does not fit, then you can glue a 16ss rhinestone in such places.
Heel taping
It is better to glue the heel with rhinestones from below. Immediately after the heel, carefully glue the rhinestones tightly to each other. Each rhinestone of the new row should fit neatly between the rhinestones of the previous row.
In shoes or sandals decorated with rhinestones, you will look magical. If these are wedding shoes in rhinestones, then they will worthily complement your royal outfit, and if you are an artist or dancer, then sandals in rhinestones will effectively emphasize your image and costume, make it memorable.
I hope that my article was useful to you and helped you easily decorate your special shoes or sandals