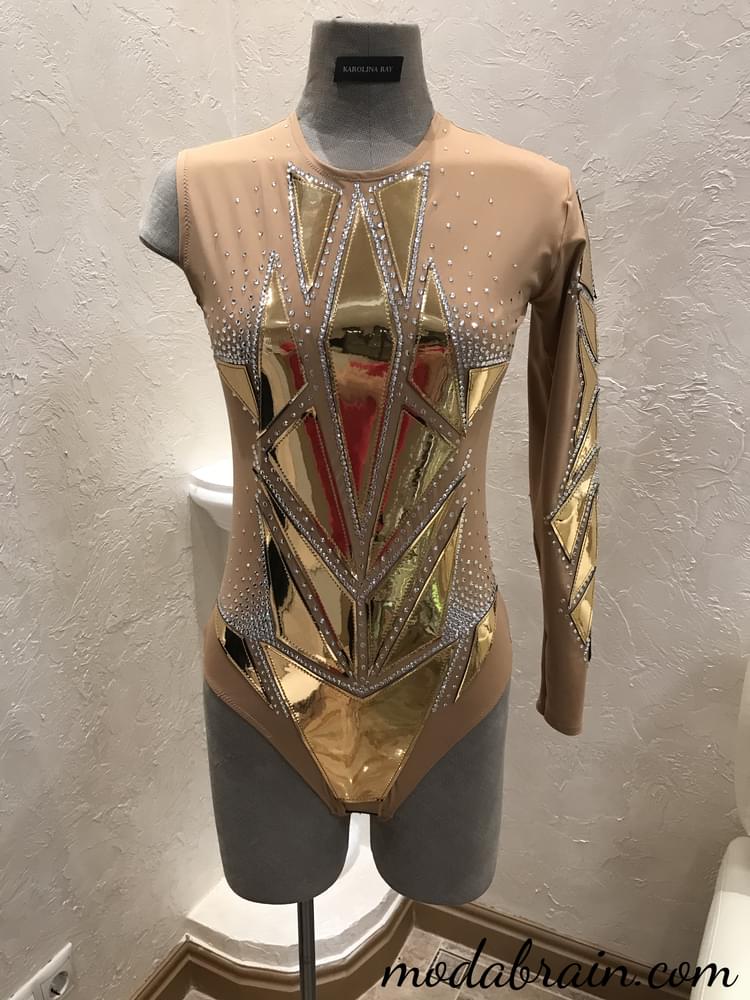 Now swimsuits with acrylic sewn-on mirrors are very popular, but the disadvantage of such mirrors is that they are not plastic and, moreover, I have to limit myself to those forms that are sold in the store, and this limits my imagination. In this article I will tell you an alternative version of such mirrors, where you can buy them and how to work with it. The material I use is very flexible. I can cut it into any shape I want. Using this material, your ideas can be more original and unique.
Content
Sketch
Required materials
Preparation of the picture
Tailoring
Question/Answer
Sketch
As usual, I started with a sketch.

Necessary materials
For this kulnik I needed the following materials:
Flesh-colored supplex (I buy in the Isadora and Esta stores, Tretyakovskaya metro station)
Gold-colored varnish (I buy in the Isadora store, Tretyakovskaya metro station and Luck, Avtozavodskaya metro station)
Rhinestones crystal size 16ss and 20ss

Preparation of the picture
On the patterns of a swimsuit, I draw decor. Since I did not sew this swimsuit to order, I can slightly change the shape of geometric shapes on the patterns. I number all the details in order not to confuse them later.
Tailoring
We cut out the details of the front, back and sleeve, but do not grind yet. We first glue the golden details on the supplex. I use UHU and Gutermann fabric glue. In no case do not use the "Crystal" glue, the varnish swells from it.
After the glue has dried, I sew on the gold pieces on my sewing machine. I prefer to sew this material on an industrial sewing machine for heavy fabrics, and not on a household one, in order to get a better stitch. This material can be stitched with any thread, but it is most beautifully obtained with thick threads for jeans or leather. I also use the needle for leather, and I also use a Teflon foot, it glides better over the fabric. Be careful when adjusting the varnish, do not make mistakes, as holes from the needle remain on it and you will not be able to steam them with an iron later.

After I have stitched all the golden elements, I glue the rhinestones. I use hot fix rhinestones.
Then I grind the details of the back and front together on an overlock and stitch the sleeve. I process the bottom of the swimsuit with an elastic band and our swimsuit is ready.
When I first started working with felt-based varnish many years ago, I didn't know how to approach it, because it cannot be pierced with a needle and cannot be basted before being tuned. This is an unusual thin varnish that can be gently pierced with a needle or pin, so working with it is much more difficult. I tried to baste it without piercing it, but winding it around with a spiral thread, but when stitching it on a typewriter, it still moved, the stitching element should not move even by 1mm, as this spoils the design of the picture. Therefore, this material must be glued with textile glue, and then adjusted, so you can be sure that your pattern on the swimsuit will not move.
Thank you for reading my article. I hope it will help you in creating your masterpieces

Question answer
Why do I use supplex for the base of a swimsuit more often than a mesh?
In rhythmic gymnastics I use a beige mesh, and in circus leotards I prefer to use a beige supplex rather than a mesh, because the artists wear beige underwear under the leotard and in my opinion it looks very ugly when it is visible under the mesh, and the supplex hides the underwear and besides - the supplex is denser and stronger, the mesh fails faster.
Is it possible to glue the mirror fabric on the glue web, and not on the glue?
In no case should you glue the mirror fabric on the glue cobweb. This is a felt-based varnish, the varnish from the iron bursts and melts. It is best to glue it on textile glue "UHU" and "Gutermann". For example, from the glue "Crystal" it swells.
Am I making a gusset?
Very rarely, unless the customer really wants it 😀. For some reason, most seamstresses do not know the purpose of the gusset, it is needed only in underwear and for purely hygienic reasons. Artists and gymnasts always wear underwear with a gusset under a leotard, which absorbs moisture, that is, a gusset is also in a leotard - this is an extra and unnecessary material.