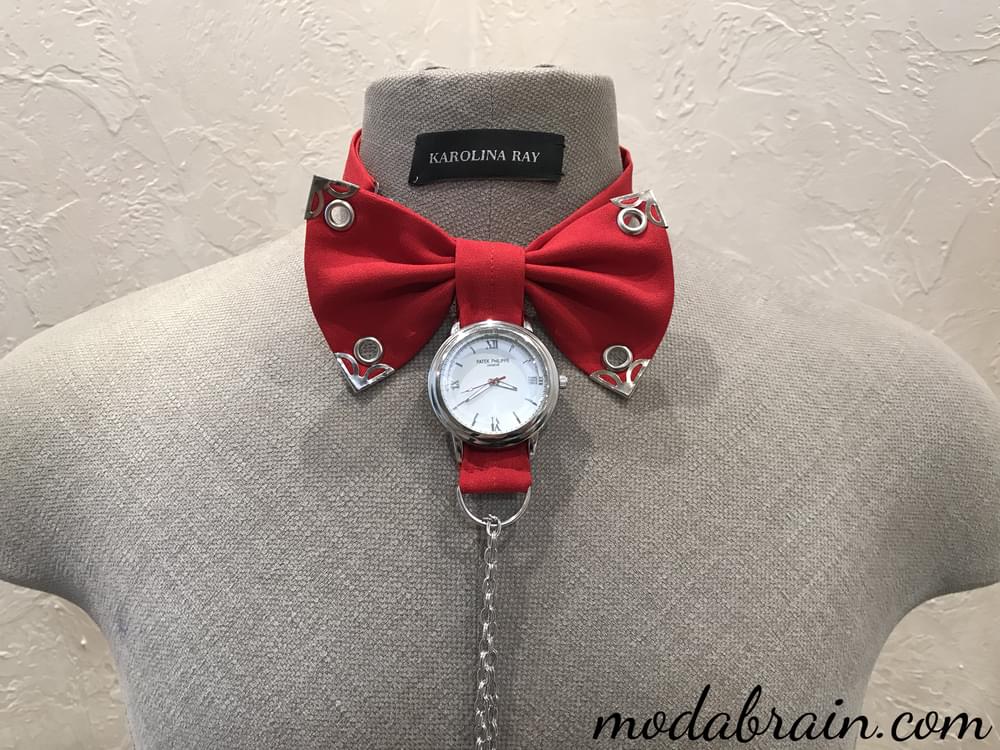 In this article, I will show you how to make a creative clock butterfly. I made it to order for a circus performer, but it is also suitable for the wardrobe of a modern young man or girl. It will look great on a young man in a white dress shirt. Complete with a vest, this butterfly will also look spectacular. Girls will definitely appreciate your stylish look!
Content
Required materials
Butterfly base
Decorating a butterfly with a clock
Grommet installation
Butterfly clasp and final decor
Necessary materials
Suit fabric
Dublerin
Wrist watch
Eyelets 6 mm (shop "Leonardo")
Metal decorative chain (Leonardo shop)
Metal corners for decorating albums (Leonardo shop)
Metal clasp for a butterfly of three parts (Leonardo shop)
Metal half ring 20 mm (Leonardo shop)
Butterfly base
I cut out the base from the costume fabric 13 cm by 9 cm, duplicated it. Then I folded it in half and stitched it, leaving a hole of a few centimeters, so that I could turn it right side out later.

After I turned the butterfly on the front side, I laid three beautiful folds in the middle. I secured them with hand stitches.
Decorating a butterfly with a clock
I cut off the buckles from the watch, I won't need them. Instead of a buckle, I used a strip of suiting fabric 2 cm wide in finished form.
Installation eyelet
Since the clock interfered with me, I decided to take it off and sew it on at the very end. After I marked the location of the eyelets with chalk, and then made holes with a special press.
I installed the eyelets with special tongs.
Butterfly clasp and final decor
Initially, I did not intend to decorate the ends of the butterfly with metal corners, but in the process it seemed to me that the corners were unfinished, so I added corners to the ends.
I made an adjustable clasp on a butterfly. I cut out a strip of fabric, did not duplicate it, otherwise it will be very dense and simply will not be regulated in a metal clasp. In finished form, a strip 1.7 cm wide.
I connected the strip with a metal fastener, and then sewed it to the butterfly from the wrong side.
Then I connected the butterfly with the clock. Cut off the excess fabric. On one side of the watch, I added a metal half ring. To which I attached a decorative metal chain.
It remains only to sew my tag on the butterfly, set the time on the clock and my creative butterfly is ready.
As you can see, this butterfly and the costume that I made for the circus carpet (clown) looks good on me too.

Maybe you should have left it to yourself? Such a butterfly will look elegant on a girl complete with a white blouse. If you have a presentation or some kind of event where you want to make a lasting impression, I recommend that you complete your look with this accessory! You will definitely be the center of attention and you will be remembered. Your success is simply guaranteed!
This butterfly will look great in any color. If made in black, it will look chic even with jeans and a T-shirt in the everyday life of a creative person who loves to be in the spotlight and is not afraid to shock the public.
Thank you for reading my article. I hope it will help you in creating your own super mega creative butterfly. If you have any questions about the creation of this butterfly, feel free to ask them right here under the article. Or if you want to say "thank you" to me for the article, then do it here under the article and don't forget to put your likes below