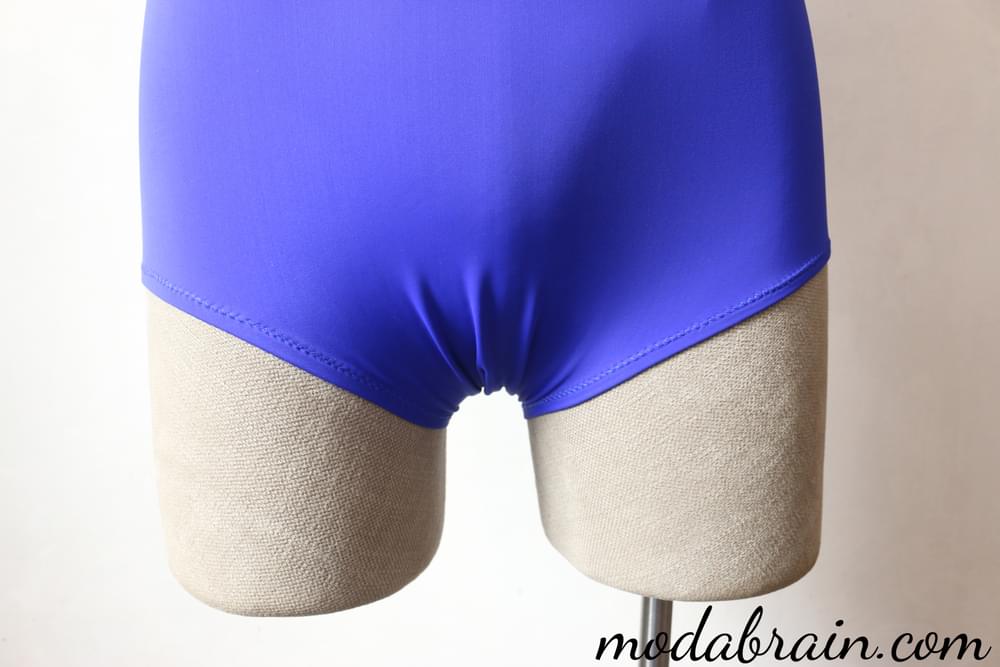 How to quickly, easily and accurately process the cutout for the legs in bodysuits and swimsuits? The cutout for the legs is one of the most problematic places for many craftswomen. And in this article I will tell you in detail and show how to process a cutout.
Content
Required materials
Gum preparation
Finishing the cutout for the legs
Necessary materials
Men's body from supplex
Elastic band 0.7 cm wide
Reinforced threads
Preparing gum
I used an elastic band 0.7 cm wide, but you can use an elastic band 1 cm wide.

First, I measured the length of the elastic band. The elastic should be 3/4 of the circumference of the leg opening.
In the photo, I pinned the elastic to the neckline with pins so that you can see it more clearly, but you do not need to pin it with pins. To measure, simply hold the elastic band with your fingers.
Then I folded the elastic in half.

Then folded again and got 4 lengths.

And then I just removed 1 part of the length of the elastic and left only 3 parts. I added 1 cm to them. The elastic band for the second neckline should be the same length.

She closed the rubber band into a ring. For this, that extra 1 cm was needed.
I fastened with a zigzag stitch on a sewing machine.
Foot cut processing
I attached a rubber band ring to the cut of the bodysuit from the wrong side and secured it with a pin.
The rest of the gum was evenly distributed around the entire circumference.
She swept everything with a temporary hand stitch.
Then I secured everything on the sewing machine with a zigzag seam. Because of the elastic band, the cut was very gathered, so when sewing, I pull the fabric a little.
Here is such a beautiful seam I got.

I removed the temporary stitch and it remains only to cut off the excess fabric of the cut.
The cut was cut off 0.1 - 0.2 cm from the zigzag seam.

All is ready! These are such beautiful cutouts for the legs I got.
In this way, I process cutouts for the legs not only in men's bodysuits, but also in women's swimsuits. I like this method because it is quick, easy and neat.
Thank you for reading my article. I will be glad if it was useful to you. I hope that everything will turn out quickly, easily and accurately for you. Happy sewing!