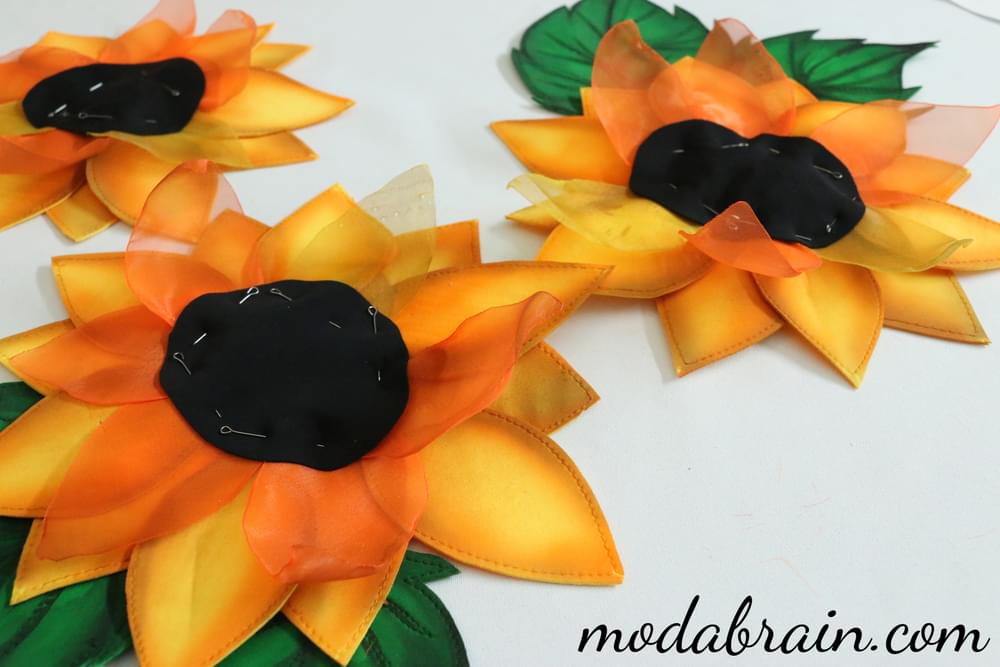 In this article I will tell and show you how I gradually created voluminous sunflowers from bifles and organza for decorating a leotard for rhythmic gymnastics.
Content
Required materials
Preparation of the biflex
Cutting details
Painting details
Organza petals
Assembly of sunflowers and leaves
Necessary materials
Supplex yellow
Supplex green
Supplex black
Organza orange
Organza yellow
Airbrush
Paint Decola batik orange
Paint Decola brown
Paint Decola pearl black
Paint Decola black
Paint Decola green
A candle
Preparing the biflex
Before cutting out the details from the fabric, I compacted the supplex. For this, I used glue stick.
I cut out two rectangles of yellow supplex and one rectangle of glue cobweb of the same size. Then I folded three layers of fabric so that the glue gossamer was between the two layers of supplex. I did the same with the green supplex. See here for more details on sizing biflex.
Cutting parts
First, I made patterns of a whole sunflower and individual petals, as well as leaves for a sunflower.
After, I circled the patterns on the prepared yellow and green supplex.

Then I secured all the circled details of sunflowers and leaves with a straight stitch on a sewing machine.
I cut out all the details about 0.1 - 0.2 cm from the line.
Painting parts
I used orange paint for batik, it is liquid, so it is suitable for airbrushing. But the brown and black mother-of-pearl Decola is normal for a fabric and it is too thick for an airbrush, so I diluted them with water to the consistency I needed. In fact, I needed the usual black color and I realized that it was pearlescent only when I began to dilute it with water 🙈 In the end, I also added it a little for shine.
I filled the container of the airbrush with paint and began to paint the sunflowers first with orange paint, then brown, and then black mother-of-pearl.
When the paint dried up, it seemed to me that this was not enough, so I also finished painting the petals.

I painted the leaves of sunflowers not only with an airbrush, but also with a brush, for this I used green paint for fabric of the same Decola brand. At the end, I added some shadows with black paint.
After 24 hours, I fixed the paint with an iron through an iron, it takes 5-10 minutes to iron.
Organza petals
For more airiness and volume of sunflowers, I decided to add organza petals. First, I cut out the petals from yellow and orange organza.

Then she scorched the edges above the candle and due to this, the petals from flat ones became voluminous.
So that the petals did not differ much in color from supplex petals, I painted them with brown paint using an airbrush.

After dyeing, you should always fix the paint on the fabric with an iron, but since my petals are voluminous, I could not iron them. 🙈 Next time I will paint the petals first and only then burn their edges over the candle.
Assembly of sunflowers and leaves
I laid out individual sunflower petals on a solid basis. Then I cut out the middle of sunflowers from black thermo-supplex. See how to make thermal fabric here.

Then I attached the green leaves and my sunflowers are ready.
These are such voluminous and beautiful sunflowers I got. I created these sunflowers for a gymnastic leotard, but other costumes and headwear can be decorated with such applications. A few years ago, I created a folk-style costume for a circus clown and used the same sunflowers there. You can see how I created the clown costume here.
Thank you for reading my article. I hope that my tips will help you in creating your beautiful flowers. If you have any questions after reading, then feel free to ask them below under the article, and I will definitely answer them 😃