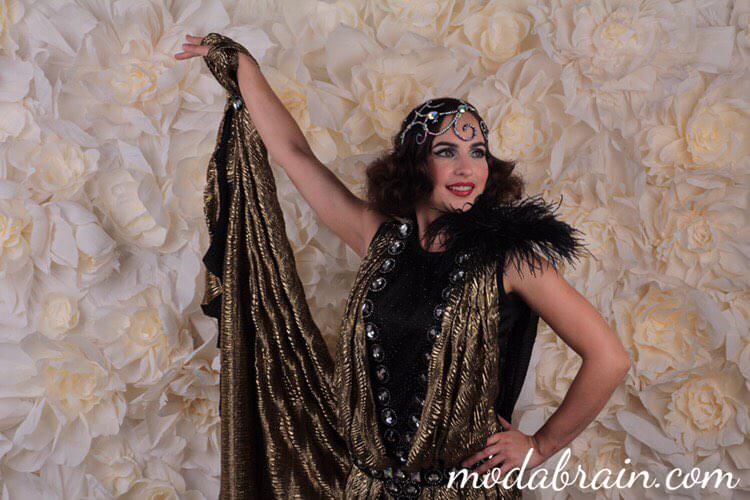 Now it has become very fashionable to hold costume parties in the style of the Great Gatsby on the roofs of skyscrapers. If you are also invited to such a party, then you should worry about a decent outfit and appropriate headdress.
In this article, I want to tell you how to make a luxurious head jewelry in the style of that time and show you how you can make it yourself. To do this, you do not need to have a special education and a design diploma, you only need materials, patience and dexterity of your hands. If you follow my instructions, the result of your work will exceed your expectations and you yourself will be surprised at the result that will inspire you to create new unique accessories.
This Great Gatsby style headpiece is now the most popular headwear among circus performers and Bell dancers. It is not difficult to make it. The main thing is accuracy and patience.
Some girls may say: why do I need such an ornament? I'm not a circus performer or an oriental dancer. Where will I go in it? I answer your question: you can wear this headdress to any youth party, to a club, or you can arrange a photo session with a friend, take a selfie, you can put it on a prom, a bachelorette party or a friend's wedding, all bridesmaids can come in such jewelry, even for a romantic evening by candlelight with your loved one, you can wear it. I hope I have convinced you that you simply need such a headdress, as well as a beautiful evening dress for a special occasion. Are you used to always shine? Is not it?
In my opinion, this headdress is now at the peak of popularity and I think that it will be in trend for a long time to come. This decoration suits absolutely all girls.
Content
Required materials
Making a wire frame
Pasting with rhinestones
Necessary materials
Thick and thin wire (can be bought at the Leonardo store)
Biflex
Rhinestones small and large sew-on AB
20ss AB hot fix rhinestones
Needle and reinforced threads
Small pliers or round nose pliers
Thermal applicator for hot-fix rhinestones (can be bought at Leonardo's store) or glue (B-6000, B-7000 or UHU) if cold-fix rhinestones
Well, if you have a mannequin head, it will be easier to make a head decoration with it
Making a frame out of wire
Take a thick wire, cut about 20 - 25 cm and start bending it in a circular motion, on one side and on the other, so that you get large curls on both sides, resembling the letter S or C. The sharp ends of the wire must be bent (about 1 cm) so that it doesn't scratch. We make 3 such curls of different sizes and different degrees of rounding. Then we connect these curls together, twisting the junction with a thin wire. Gently bend the ends of the wire inside the twist and then press this place with pliers.
Now try to slightly bend the resulting frame in the shape of the head. It should not be flat, but voluminous. If you have a mannequin head, then this will greatly facilitate your work. Take the frame and form it in the shape of a mannequin head. If you don't have one, then try it on yourself, but be careful, because the wire quickly gets tangled in your hair and, in order not to tear your hair out and not damage your scalp, try it on, after collecting your hair in a ponytail, and even better on a rubber swimming cap .
You should end up with something like a wire hat. You see that somewhere the curls lay down well and beautifully filled the space, and somewhere empty places. So, these empty spaces need to be filled. By eye, determine the size of the curl that will fit there and insert it into this place, attaching it with a thin wire and closing the ends inward so that they do not stick out and do not damage the scalp. Empty spaces can be filled simply with jumpers without curls. You do this at your own discretion.
Next, you need to cut strips of supplex, about 1.5 - 2 cm in size. The color of the supplex can be selected depending on the hair color of the girl who will wear this jewelry. With these strips of supplex we will wrap the wire frame. I always use black supplex. It is universal.
You can immediately wrap the curls of wire with supplex strips, this will make it easier for you to try on the frame on yourself and it will be easier to wrap the curls when there are few of them and the supplex strip is not so confused between them.
We begin to wrap with a supplex from the end of the curl, carefully closing it and fixing it with manual hidden seams. The places where the curls are fastened with a thin wire are also carefully wrapped with a supplex and secured with hidden seams. So that the junctions of the curls have a beautiful view of them, then we will sew large AB rhinestones.
You should get something like a hat. For strength, all the joints of the supplex strips are also fixed with hand stitches. When the frame-hat is almost ready, we sew on the back of the hat elastic, which will fix the fit of the headgear more firmly.
Pasting with rhinestones
When everything is fixed, you can start pecking the frame with rhinestones and turn it into an exquisite decoration. To do this, we need approximately 1000 - 1500 pieces of hot fix AB strass. We will stick them with the help of a special device called a thermal applicator.
If you do not have such a device, but have cold-fixed rhinestones that are glued with glue, then glue them over. Glue can be used any of the above: "B-6000", "B-7000", "UHU" or white Indian "Fevicryl".
The headdress will look richer and more luxurious if you scatter large stones over the surface, for this I recommend that you sew on 5-10 pieces of large AB teardrop-shaped, round, square or oval rhinestones, their shape does not matter. They will add more shine and luxury to your look, and I sewed small AB rhinestones on the ends of the curls. The stones are glued tightly to each other.
Voila! My Great Gatsby headpiece is ready! I made it to order for a circus artist who works in the genre of illusion transformation of costumes.
It takes much less time for this headdress than for a kokoshnik, a master class of which you can see HERE. If it takes several days to create a kokoshnik, then it took me 2 days of painstaking work to create such a chic decoration.
This jewelry is very light, comfortable and keeps well on the head. For circus performers, acrobats, aerial gymnasts, whose work is associated with a risk to their lives, I still recommend fixing this decoration with invisibility in several places for greater reliability.
When you make yourself such a headdress, I am sure that you yourself will be surprised at its beauty. He's all sparkling! I recommend that you do an evening or unusual stage make-up, an appropriate hairstyle, invite your favorite girlfriends to visit and take beautiful photos. I'm just sure that you and your friends will be completely delighted with this amazingly beautiful headdress. In such a decoration, it is simply impossible to go unnoticed! You are simply doomed to become the queen of the evening! Make yourself such a decoration and feel like a star!
Thank you for reading my article and I hope you found it useful. I will be very glad to your responses and comments.