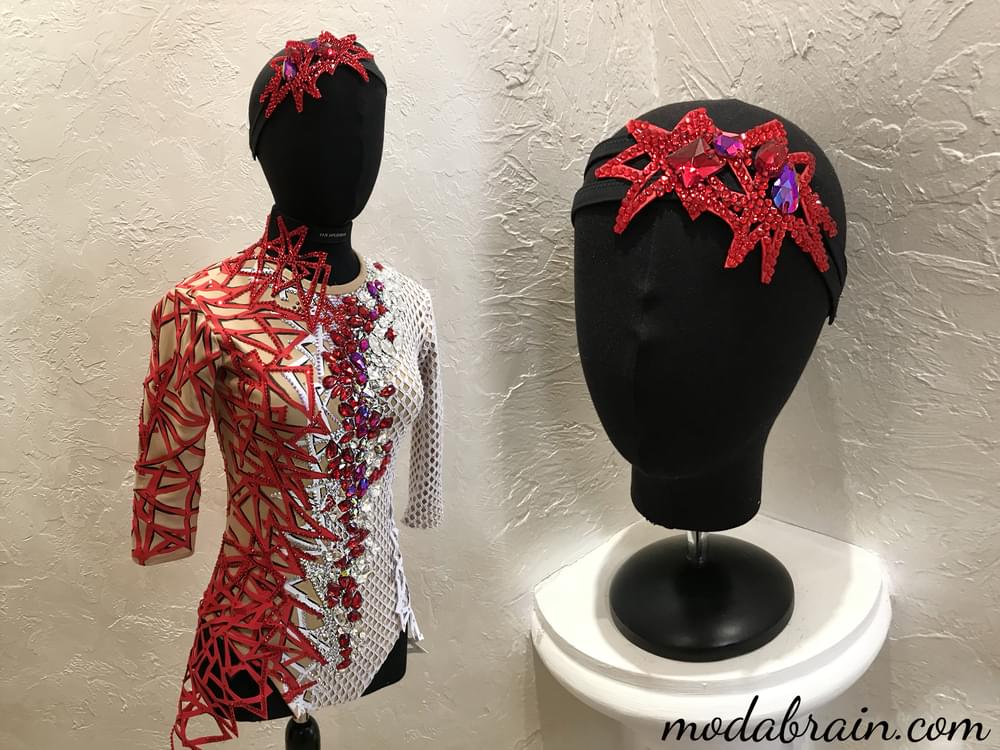 In this article I will tell you how easy it is to make a fashionable headdress on a solid basis, which I made in a set for a leotard for an aerial gymnast. I use this base (in the form of a rim) in almost all my hats. I like this base because it is very firmly attached to the head and can withstand any voluminous decor. And aerial gymnasts also like our headgear on this basis, because it is comfortable even to fly under the dome of the circus in them, they do not interfere with performing tricks, but are tightly and securely attached to the head.
Content
Required materials
Base preparation
Application from supplex
Decorating with rhinestones
Necessary materials
Supplex black
Supplex red
Glue web
Elastic band black
Regilin 0.6 cm
Hotmelt Rhinestones "Siam" size 20ss
Sew-on rhinestones "Drop Siam" 28 x 16 mm - 1 pc
Sew-on rhinestones "Drop Siam" AB 28 x 16 mm - 1 pc
Sew-on rhinestones "Quadra Siam" 2 x 2 cm - 1 pc
Sew-on rhinestones "Cosmic Siam" AB 16 mm - 1 pc
Base preparation
For the base, I needed two strips of reguilin 0.6 cm wide and 45 cm long, an elastic band about 10 cm long, an elastic band 3 cm wide and two strips of black thermal biflex, with which I will fit reguilin (you can see how to make thermal fabric from any fabric HERE.
I glued masking tape to the ends of the regilin so that the reguilin lasts longer and to cover the plastic streaks in the reguilin so that they do not scratch or rub the scalp.
Then I wrap regilin with thermobiflex, stab it with pins in some places and iron it with an iron. After that, I easily fix the supplex on the regiline with a straight machine line.
It is not necessary to cover regilin with thermal fabric, you can choose any other material. But if the fabric you have chosen is very stretchy, like a supplex, then it will be very difficult to carefully stitch it on regilin, so I advise you to still make a thermal fabric out of it.
Then, placing these two strips of reguilin parallel, I sewed a black elastic band 3 cm wide on both ends, thereby connecting the reguilin into a ring.

Application from supplex
Now my base is ready and I can move on to decorating it. To do this, I need to draw an ornament on paper, which I will use for the application. Since I made this headdress for a certain swimsuit (you can see the photo of the swimsuit at the end of the article), so I made the ornament the same as on the swimsuit.

I made the application from supplex, but since the application from one layer of supplex will twist, so I glued two layers of supplex together with a glue cobweb. I did not fix two layers of supplex with machine stitching. In order for the glue gossamer to glue two layers of supplex together, it is not enough just to iron the fabric, in order for the gossamer to melt, steam is needed. And since I have a fairly powerful steam generator, with its help I can glue fabrics together well. To check, I left the glued supplex in warm water with washing powder for 24 hours and the glued fabric did not lose its shape at all and did not stick out even after hand washing.
Then I determined the location of the applique on the rim and secured it in some places with a machine stitch.
Decoration with rhinestones
Our bezel is almost ready, it remains only to decorate it with rhinestones. I first sewed on the large rhinestones, and then I glued the entire red surface with 20ss "Siam" hotmelt rhinestones.

And voila! My headdress for the artist is ready!
This base for a headdress can be used not only for the stage. If you decorate it a little differently, then it will harmoniously look with an evening dress. And you can sew some kind of flower on this base, and this headdress can be worn in everyday life.
Thank you for reading my article, I hope it will help you create your own chic headdress. I will be glad if you share your opinion about this headdress and about my article in the comments below