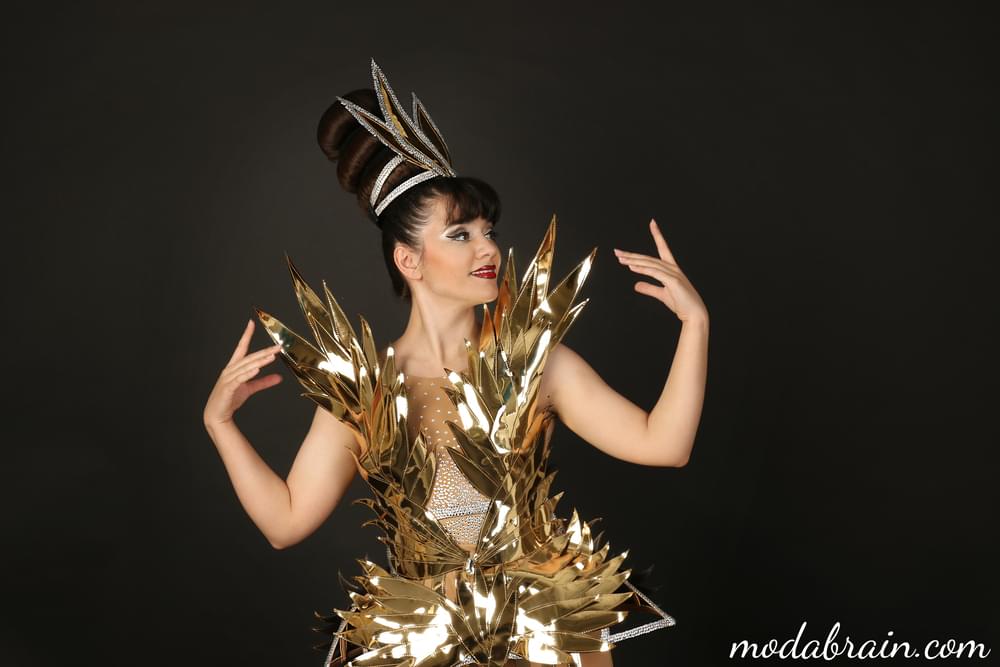 All artists performing on stage or in the arena want to look chic and unique, but where can you find a costume that will make you look like a king? Even if you find it, the cost of a unique, avant-garde costume created by a professional designer is always high. Even if you found a photo of such a suit and brought it to the atelier, not every atelier will take up the job and be able to sew it. In this article I will tell and show you how to make an original, avant-garde bodysuit from the now popular mirror fabric, as well as where to buy such a popular material and how to work with it.
Content
Required materials
Decor preparation
Sewing the body and frame
Pasting with rhinestones
Headdress
Question/Answer
Necessary materials
For sewing a costume you will need the following materials:
Supplex corporal (bought in the store "Esta")
Golden lacquer (bought in the Isadora store)
Regiline
Hidden zipper *Rhinestones Crystal hot fix size 16ss and 20ss
Adhesive for fabrics "UHU"
Preparing decor
This costume is quite difficult to tailor and prepare for a lot of handwork, the costume is almost 80% handmade, so it can be called "Haute couture".
Since I sewed this costume without a sketch or any sketch, I only had a mental picture of what kind of costume I want to sew, so the first thing I did was cut leaves or feathers, as I call them, in different sizes from golden lacquer.
In order to make the petals look more complete, I sewed a straight decorative stitch along the edge of each petal, as in my opinion, without a stitch along the edge, this material looks somehow loose and the leaf seems unfinished. In addition, then we will need to somehow sew these petals to the bodysuit, and there these decorative stitches will still be useful to us.
I did the decorative stitch on a Juki industrial sewing machine for heavy fabrics; I used the needle for leather and the thread for jeans. I also used a Teflon foot.
Then I took a mannequin and began to prick petals on it. I started pricking from my shoulders and realized that only small petals were not enough for me, I also needed long, large petals for my shoulders. And since the gold lacquer is black on the wrong side, and I need both sides to be gold, I glued the two petals together and sewed them on a sewing machine. I glued the petals with UHU fabric glue.
After voluminous and fluffy shoulders, I began to highlight the waist and hips with small petals, folding them like a fan.
Body and frame tailoring
Now let's move on to sewing a flesh-colored bodysuit. In the shoulders, I made a frame base of regilin covered with supplex, to which long petals will be attached, without a frame they will fall off very quickly, and the stage costume must be strong and serve the artist for more than one year, so we make everything strong and reliable.

This is where the decorative seams on the petals came in handy. Felt-based varnish is a very dense material, it is very difficult to pierce it with a pin or needle, moreover, we cannot pierce it with pins due to the fact that holes remain after the pins that will not disappear anywhere. The material cannot be steamed with an iron, gold becomes cloudy and cracked. Therefore, I pinned the petals to the body with pins for these decorative seams, and then we will sew them along these seams. In some places I even had to stick the petals on masking tape.
In the process, I realized that at the waist and hips, the petals, just like in the shoulders, should be sewn onto the frame base, and not on the body itself. If you sew the petals to the bodysuit, then it stops stretching.
Roughly outlined where I need wireframe lines and how long. We fit the regilin supplex in the same way as we fitted the frame in the shoulders.

Then I began to sew the petals to the shoulders and waist. It is difficult to sew the petals by hand, I already wrote above that this fabric is very difficult to pierce with a needle, moreover, in some places I also have a double one, besides, the petals had to be firmly sewn to the reguilin. Regilin lacquer is so hard to pierce that I broke a lot of needles in the process.
Then I began to decorate the costume with petals along the line of the hips and in the process it became clear that I needed more frame lines.
After I prepared the whole frame, I sewed all the petals on the hips and back.
Pasting with rhinestones
In those places where there were no petals on the frame and body, I glued them with rhinestones. I used 3950 rhinestones for the costume.

Headdress
I made a headdress for the costume, according to the same principle as the bodysuit. I made a rim of two strips of regilin covered with supplex, sewed on it three petals of a 20ss crystal pasted over with rhinestones.
Voila! My unique costume is ready! The bodysuit with gold petals turned out to be very unusual and spectacular, despite the fact that this suit is very light and durable, it is easy to put on and it is very comfortable not only to move around the stage or arena, but you can even perform acrobatic stunts in it.
I sewed this costume for quite a long time due to the fact that the main part of the work was done by hand, I did not plan this, but despite the large amount of time spent, the result exceeded all my expectations and was worth all my torment, as well as pierced fingers.
Thank you for reading my article! I hope that it was useful and interesting for you. Next time I will show you another stage costume where I used this golden material, and also tell you how I made it

Question answer
Do I need to duplicate the gold lacquer?
The felt-based gold varnish already holds its shape well, so it does not need to be duplicated with anything. The felt is black on the wrong side and if you do not want the wrong side to be black, only in this case you can sew any other fabric on the wrong side, but why? 😉