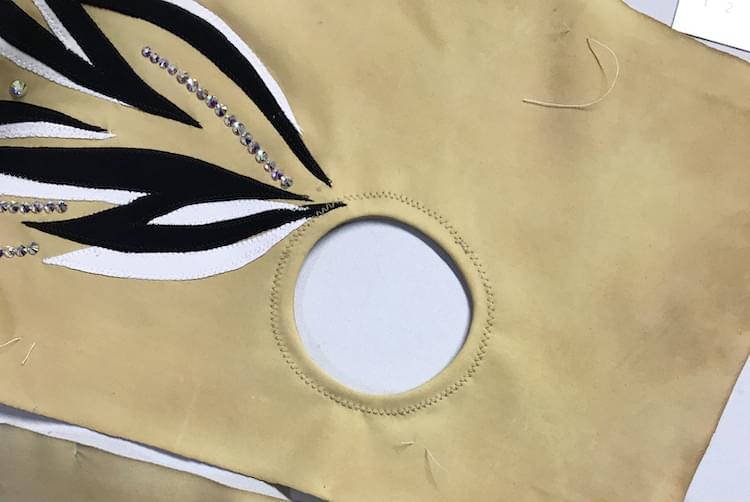 There are many ways to finish the heel cutout in gymnastics overalls: round, rectangular, with facing, without facing, etc. In this article, I'll show you step by step one of my favorite ways to work on a round heel cut that has been turned over.
Content
Required materials
Turning round heel cut
Necessary materials
Supplex corporal
Reinforced flesh-colored threads
Turning over round heel opening
In this article, I will show you how I processed the heel cutout. The heel cutout can be finished without turning, but the cutout wears out quickly, so I prefer to turn it with a turn. And for this, I noted the location of the cutout with a diameter of 5.5 cm, I have it round, but it can also be rectangular. After that, I cut out two facings of about 10 x 10 cm from the body supplex. According to the rules, the facings are always glued with doubler, but since this is a gymnastic overalls, here we bypass some rules 🙂.

I connected the front sides of the facings with pins with marked cutouts on the front side of the legs, then secured them on the sewing machine with a stretch seam.
After carved supplex 0.1 - 0.2 cm from the seam.

Then she turned the facings on the wrong side of the overalls and swept them into a split, and then fastened them on the sewing machine with a zigzag seam.
Then, from the wrong side, I cut out the excess facing.

As you can see, there is nothing complicated in processing a round cut with a facing. The neckline itself does not have to be the same diameter as mine, its size depends on the growth of the gymnast. This edging method can also be used for leotard necks, armholes and teardrops.
Thank you for reading my article. I hope it will help you in tailoring your overalls.