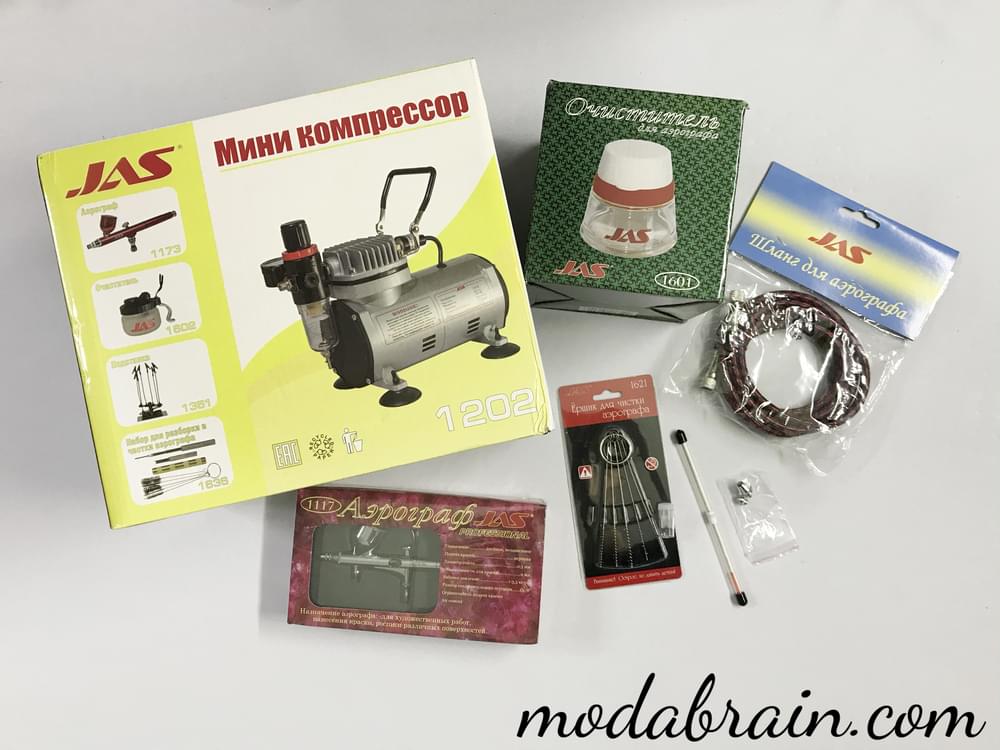 When it comes time to buy an airbrush and a compressor for painting swimwear, we all face several questions, for example, which brand and what power to buy? The problem is that there are many articles and videos on the Internet about airbrushes and compressors, but they are not related to painting swimsuits or stage costumes. And we would like to hear advice from the masters who are directly involved in painting swimsuits. And in this article I will tell you about how I chose an airbrush and a compressor for coloring leotards for rhythmic gymnastics and stage costumes, and I will also share my experience of using them.
I myself do not understand anything about airbrushes and compressors, so I turned to my brother for advice, who has many years of experience using completely different airbrushes and compressors. He tried to explain to me the principle of their work and what you need to pay attention to when buying them.
My brother suggested that I first try to paint the fabric with his airbrush and compressor in order to understand in practice how they work and so that I understand how much power I need a compressor. But the problem is that he has a huge professional compressor that weighs so much that at least two men have to carry it 😐, it is too big and powerful. In the end, I did it my own way and just bought a small compressor and an ordinary airbrush without bells and whistles 🙈.
I decided to order immediately a kit that includes:
Compressor Jas 1202
Airbrush Jas 1117
Hose Jas G1/8"xG1/8", 1.8 m
Airbrush Cleaner Jas 3in1
A set of brushes for cleaning the channels of the Jas airbrush
And additionally I ordered a 0.5 mm nozzle
All this cost 7500 rubles. (Bought in 2020).
The airbrush itself is comfortable to hold in my hands, the paint supply control lever is on top of me. I was worried about the small 9 ml paint container, but for painting swimsuits this is quite enough and in the process of painting a swimsuit it is easy to add paint to the container, I just do not close it with a lid.
My brother has one of the airbrushes with removable paint containers and I find it quite handy if you need to use a lot of colors. So you do not need to spend a lot of time cleaning the container when pouring a different color of paint. This saves a lot of time.

One of the most important things in an airbrush is the nozzle. My airbrush came with one 0.3 mm nozzle, but I also bought a 0.5 mm nozzle for painting large area fabrics. Unfortunately, I was unable to test the 0.5mm nozzle as it was defective. But for swimwear and overalls, 0.3 mm is also quite suitable.
And finally, the most important thing is the compressor. I have it small, which is convenient when carrying, but this is where its pluses end 🙂. Many people use very small compressors for painting swimsuits, which are designed for manicures for painting nails, they are even less powerful than mine, but I don't understand how they use them at all. If you need to paint a small area, for example, only part of a swimsuit, then in principle the power of my compressor is enough. But when I dyed the overalls with it, I realized how weak my compressor is and this is exactly what my brother was trying to explain to me 😅.

The compressor itself is noisy, besides it vibrates a lot, which creates additional noise and gets very hot when running for more than 10 minutes. When I first dyed a fabric with a large area, after about 30 minutes the paint began to flow poorly and I thought that the nozzle was just clogged. But then I realized that it was not a clogged nozzle, but a weak compressor.
It has to be turned off every 15-20 minutes so that it does not heat up too much and then the paint flows well. And this makes the painting process a little more difficult. You can see the process of painting the supplex here.
Therefore, it is better to immediately take a compressor with high power, this will simplify the painting process for you.
Specifications of my compressor:
Voltage - 220V
Frequency - 50 Hz
Power - 150 W
Pressure - 0-4 kg/cm2
Productivity - 23l/min
Weight - 3.6 kg
Painting fabric with an airbrush is much faster than doing it by hand with a brush. The only thing I don't like about the airbrush is cleaning it after use 😅 The airbrush needs to be completely disassembled and thoroughly cleaned of paint with special brushes and liquid cleaner. If you do not do this, then the airbrush will quickly become worthless.
Thank you for reading my article. I hope that based on my experience, you will choose the right airbrush and compressor of sufficient power for yourself 🙂