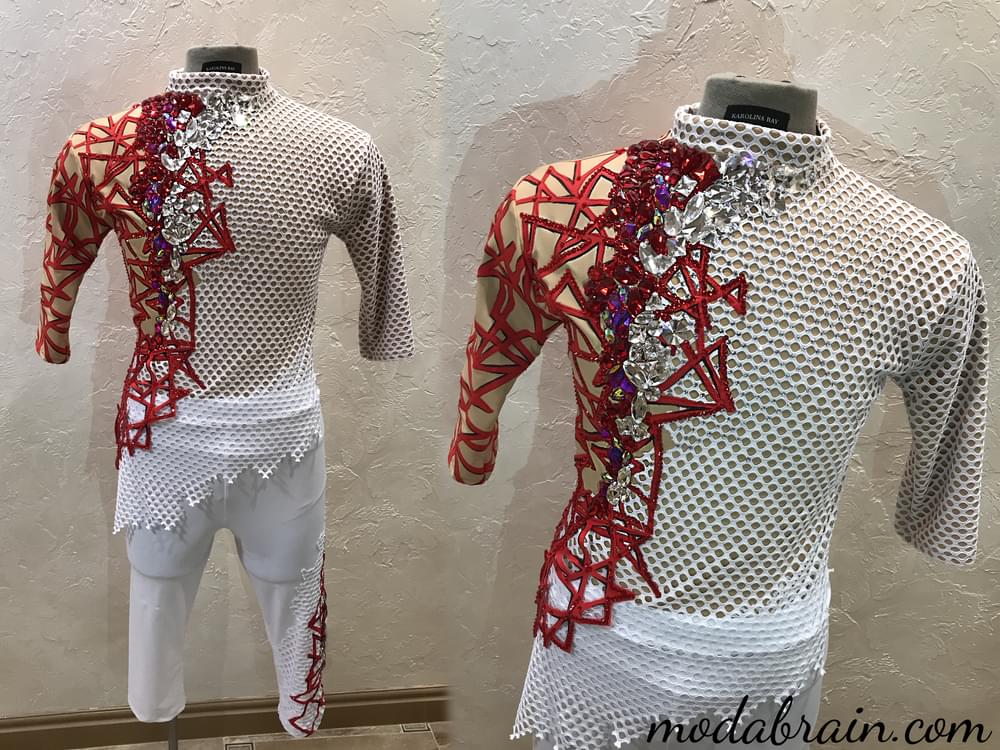 In this article, I will tell and show you step by step how I created a men's suit for an aerial gymnast. I already told you how I created a leotard for his partner, and now you will see the complete process of creating a men's suit.
Content
Required materials
Create a sketch
Building and cutting
Sewing leggings
Body tailoring
Decorating the costume with rhinestones
Necessary materials
supplex beige
Supplex red
Supplex white
Mesh large white
Glue web
Hidden zipper
Paints for fabric "Decola"
Indian glue for rhinestones "Fevicryl"
Sew-on rhinestones Rivoli col. crystal 10 mm
Sew-on Rhinestones Drop col. crystal 28 x 17 mm
Sew-on Rhinestones Drop col. siam 28 x 17 mm
Sew-on Rhinestones Drop col. Lt. siam AB 28 x 17 mm
Sew-on Rhinestones Drop col. Lt. siam AB 18 x 11 mm
Sew-on Rhinestones Drop col. siam 18 x 11 mm
Sew-on Rhinestones Drop col. crystal 18 x 11 mm
Sew-on rhinestones Navette col. crystal 18 x 9 mm
Sew-on rhinestones Navette col. siam 18 x 9 mm
Sew-on rhinestones Cosmic col. siam AB 21 x 16 mm
Sew-on rhinestones Cosmic col. siam 21 x 16 mm
Sew-on rhinestones Quadra col. crystal 16mm
Sew-on rhinestones Quadra col. siam 20 x 20 mm
Sew-on rhinestones Octagon col. crystal
Sew-on Rhinestones Rectangle col. crystal 22mm
Sew-on rhinestones Triangle col. siam 18 mm *Hot fix adhesive rhinestones col. crystal 20ss *Hot fix adhesive rhinestones col. crystal 16ss *Hot fix adhesive rhinestones col. siam 20ss *Hot fix adhesive rhinestones col. siam 16ss
Sketch creation
At first I drew foresketches (drafts), the colors of the costume were initially white, blue and silver, but in the process the colors were changed.
After I drew the final sketch in color, and since we still haven't decided exactly what color we will make the costumes with the customers, I made a sketch in several colors at once. I drew sketches on the iPad Pro 2018 in the Procreate program.
Building and cutting
I built it using the "Muller and Son" method, but during the modeling of the bodysuit, I made several changes to the patterns and made it detachable along the waistline. I also changed the front of the underpants, I will not have three front parts, as in the design, but only two. I left only the vertical seam, and removed the horizontal seam, because it will be visible under white leggings, and this is ugly.
I cut out the base of the bodysuit from body supplex, cut the leggings from white supplex, partially cut out a large white mesh and tacked on a hidden zipper on the back. I determined the correct location and length of the large mesh during the fitting.
After trying on, I completely dismantled the suit and proceeded directly to its tailoring.
Sewing leggings
First, I cut out an appliqué from red supplex, which should be on one side of the leggings. And then I scribbled a large white mesh, and on top of it I glued and scribbled supplex appliqués.

Then I brushed the shadows with black "Decola" fabric paint. 24 hours after applying the paint, I fixed it with an iron.

Then I sewed overlock step cuts on the sewing machine, and then connected the two parts of the trousers along the middle cut.

Then I made a belt. To do this, I took an elastic band 3 cm wide and connected it into a circle and also cut out a supplex belt. Usually, they first connect the belt with the trousers, and only after that they put the elastic into the belt, but since I have a very stretchy fabric, it was easier for me to immediately connect the belt with the elastic, then sweep and stitch on the overlock. Next, I worked the bottom of the trousers with a zigzag seam.
Body tailoring
Before connecting the body parts, I cut out red geometric applications from thermobiflex.

In costumes like this, it is very difficult to determine the order of actions 😀. When I sewed a women's swimsuit to pair with this costume, you can read about it HERE then everything is simple there, after all, women's gymnastic suits are much easier to sew, and in men's suits there are many small problems that are difficult to solve 🙈.
There was a problem in the large grid. I had to sew as much of it as possible on the body and make it so that it did not ride up when the artist turned over in the air and did difficult tricks. In addition, the mesh should lie all the time on top of the leggings and not ride up even if the artist hangs upside down.
First, I stitched the two back parts of the underpants with a knitted seam. Then I sewed a hidden zipper on the back, and only then connected the back to the back of the shorts on the overlock.
I did not immediately connect the upper part of the front with the front of the shorts, here I decided to first baste the red geometric applications.

Then I glued them with an iron, and then secured them with a zigzag seam on a sewing machine. After that, I already connected up to the bottom, and then stitched the front and back along one side where the red supplex appliqué should be.
Then I glued and scribbled supplex applications on the back.

Then, just like on leggings, I added shadows with black paint. In fact, if you are sewing a costume for circus gymnasts, then these shadows will not be visible to the viewer from the arena, like any painting with paints. That's why I usually don't do any complicated painting on costumes for circus performers. But since these shadows did not need to spend a lot of time, I made them, even if only fellow artists will see them 😀.

Then I sewed the second side seam of the bodysuit, the shoulder seams and the middle seam of the underpants on an overlock sewing machine.
Then I cut out more applications from two layers of red supplex glued together with a glue cobweb. If I need a thick appliqué that I don't tailor completely to the suit, I always thicken it that way. If you glue two layers of supplex with a cobweb using an ordinary iron and do not fix the application on a sewing machine, then such an application will quickly delaminate. But if glued with a steam generator, then it will not delaminate for a very long time even without fixing it with a machine line.

I will sew the cut-out applique only in the upper part, and the bottom will hang over the leggings.

Then I sewed red appliques on one sleeve, and on the second sleeve I will have a large mesh over the nude supplex. Someone may say that the body supplex is an extra layer of material, but this is not so. The large mesh is not a very durable material and it wears out quickly on its own, and thanks to the body supplex base, this mesh will last longer for the artist.

Then she stitched the sections of the sleeves on an overlock and sewed the sleeves into the armhole.
Now it remains to make only the stand collar. To do this, I cut out a rectangle from a body supplex and a large white mesh. I overstitched the collar, and then swept it up and sewed it into the neck.
Costume decoration with rhinestones
At the request of the customers, in this costume I mainly use sewn-on rhinestones, as due to strong friction on the belts (circus props), glue rhinestones disappear. In fact, it doesn't matter with what glue you glue rhinestones for circus aerialists on belts or canvases, rhinestones do not just peel off due to strong friction, they come off along with the fabric and small round holes remain on the costume. Therefore, many people prefer sewn-on rhinestones.
Then I put the bodysuit on the mannequin and pinned rhinestones on it with pins, because in a vertical position the composition of rhinestones is better visible. Then I slightly glued them with Indian glue for rhinestones "Fevicryl", otherwise it will be very difficult to sew such a large composition of rhinestones, the rhinestones will move strongly during sewing and the whole pattern will be broken.
After the glue had dried, I sewed the rhinestones onto the bodysuit.
Despite the fact that the customers initially did not want glued rhinestones in size 20ss, but in the end we still glued them. I did not want the composition of large sewn-on rhinestones to end abruptly, and small rhinestones made it possible to create a smooth transition.
My aerial gymnast costume is ready.
Costumes like this one are difficult to make because of the large restrictions. I want to create something unusual and non-standard, but it is impossible. Yes, here no one will reduce points for a performance due to open shoulders or a too fluffy skirt like in rhythmic gymnastics, but here the artist works an aerial number without insurance, so there are a lot of restrictions. In addition, the life of his partner depends on this artist. Nothing should interfere with the work of an artist. For circus aerialists, even rhinestones can not be glued everywhere. Artists always ask to make rhinestones in the abdomen and on the arms as little as possible. We can say that the only place where rhinestones can be glued is the area of \u200b\u200bthe chest and neck. Because of this, the artist's imagination has nowhere to play.
Thank you for reading my article. I hope it will help you in creating your original costume. I described in detail the technology and the stages of tailoring this costume not for copying, but so that you understand the process of creating costumes and with the help of this article create your own masterpiece. This article will serve as a model for you. And remember that there are many artists working in this genre and our task is to help the artist to be unique and not like others with the help of a costume 😃.