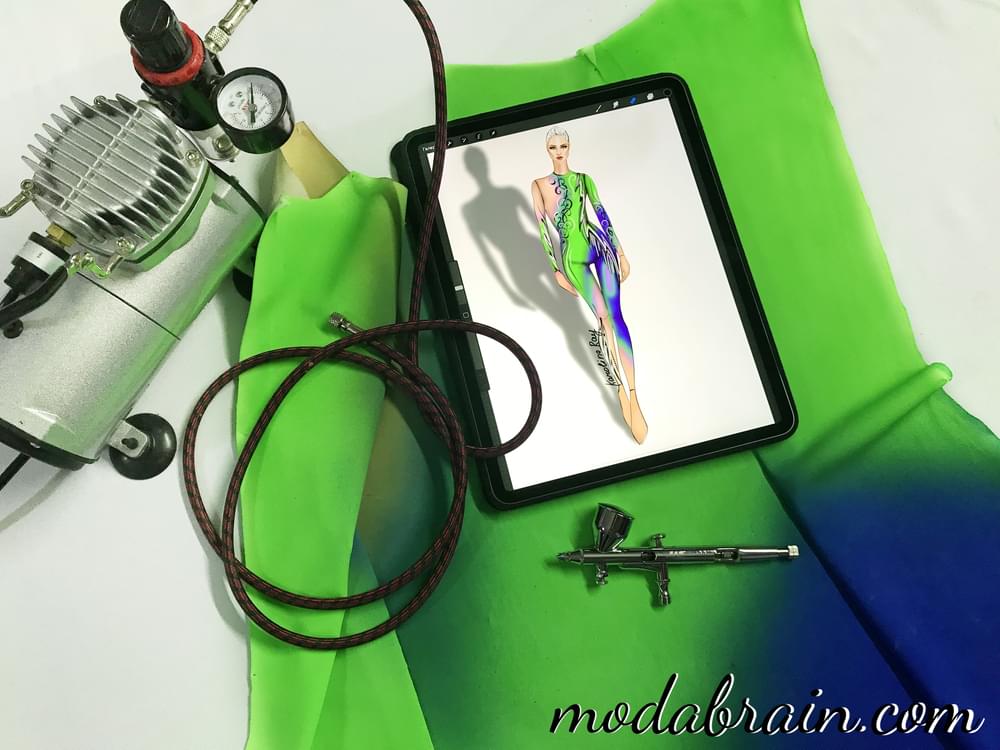 In this article, I will show you step by step how I airbrushed the overalls for rhythmic gymnastics, what paints I used for this, and I will also tell you all the nuances of painting the gymnastic overalls.
Content
Required materials
Preparation for painting
Painting
Necessary materials
Airbrush
Compressor
Fluorescent fabric dye Decola green
Fabric paint Decola ultramarine
Fabric paint Decola white
Fabric paint Decola green
Fabric paint Decola red
Paint for fabric Decola ocher light
Supplex white
Buttons
Water
Preparation for painting
When I cut the jumpsuit, the cuts left a little more, not 1 cm, as I usually do, but 2 cm, because when painting, I need to attach the overalls with push pins to the surface on which I paint so that the fabric does not move.
Since I painted the overalls with regular Decola fabric paints, and they are too thick for an airbrush, so I had to dilute them with water to get the right consistency. The water was pre-boiled and cooled.
I only diluted the ultramarine color and fluorescent green with water to the desired consistency, but the shade of beige I needed was not in the Decola palette, so I had to prepare it myself.
To do this, I took the following colors: light ocher, white, green and red. I mixed all these colors and got the beige shade I needed (pictured on the right), then diluted it with water and my paints are ready.

Painting
Before I dyed the jumpsuit itself, I dyed the swatch.

I started painting the overalls in beige, then green and then ultramarine.
It is very difficult and inconvenient to dye a fabric with such a large area. It is convenient to paint fabrics in a vertical position behind an easel, so you can better see the proportions. But since this jumpsuit is one-piece, about 130 cm high and 1 m wide, it could not be painted at the easel.
Why is it better to stretch the fabric before painting, especially when painting such a large area. Here is an example of what can happen: I had a crease that I did not notice when painting, and as a result, after drying and leveling the fabric, the visibility of this crease remained. But it's good that it turned out in the place where I should have all the decor and it will not be visible.

Then I also dyed the sleeves and left it all to dry for 24 hours.
Then the paint was fixed with an iron through an iron. And my fabric is ready to be sewn. You can see how I sewed the jumpsuit here.

When you dye a jumpsuit not partially, but completely, you must understand that the fabric changes its elasticity. Keep in mind that a hand-dyed supplex will stretch a little more at the knees and elbows than a purchased colored supplex. This does not mean that after the very first performances, the fabric is strongly deformed in the area of the knees and elbows. No, this will not happen, and your child can safely perform in such a jumpsuit for a long time.
Despite the fact that it was an interesting and informative experience of painting the overalls completely, and not partially, I can say for sure that I will no longer take on such an order. It is very beautiful and after the work done you enjoy the result, but the process of creating such a jumpsuit is very long and complicated.
Thank you for reading my article. I hope that my experience in dyeing a jumpsuit will help you in creating your masterpiece and your little gymnast will shine in it at performances.