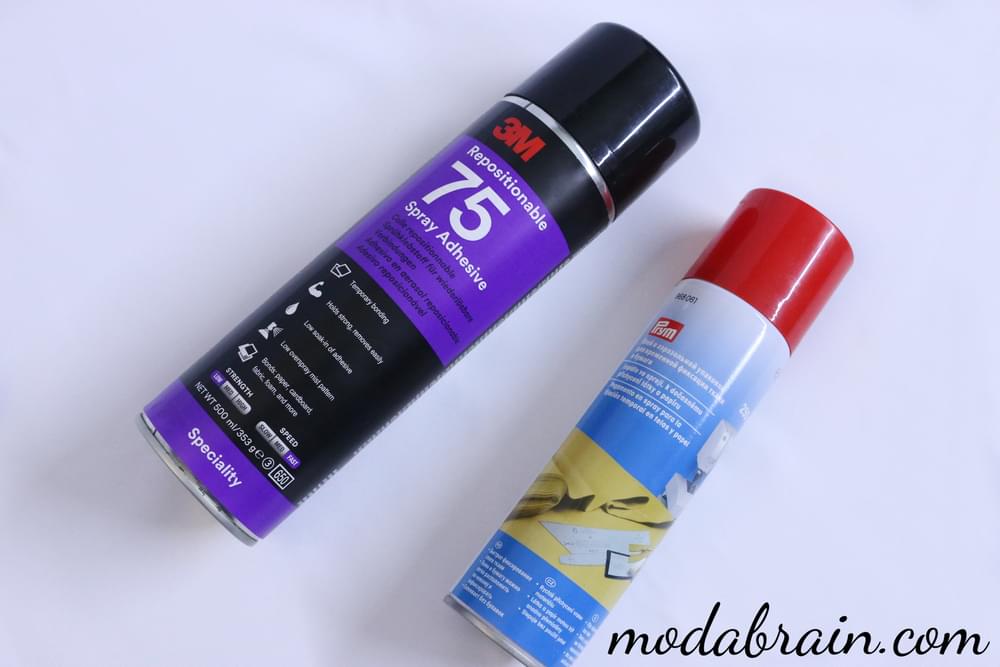 When sewing gymnastic leotards, it is often necessary to fix a fragment of an appliqué from a supplex based on a leotard, and for this, pins alone are not always enough, therefore temporary fixation glue is used. And in this article I will tell you about the properties of two textile spray adhesives: "3M 75" and "Prym", which are most often used by swimsuit sewing masters.
Content
"Prym" glue
Glue "3M 75"
Glue "Prym"

Adhesive in aerosol package for temporary fixing of fabric and paper. The packaging says that the glue is odorless and colorless. But in fact, the smell is still there. You will not smell if you glue any small part, but if you need to glue a lot of parts, you will smell.
As for the color, when sprayed on the fabric, this glue looks like a white gossamer, but it is not visible from the front of the fabric. Be careful! The glue must be shaken well before use, but even after shaking, the glue sometimes drips from under the valve (glue spray buttons) and these spots are very visible from the front side. And even after washing, these spots do not disappear.

Glue fixes the fabric well, but not for long. If you need to glue on any large intricate supplex pattern that will take hours to sew, then the patterns start to peel off and shift, which is completely unacceptable, especially for a symmetrical pattern. For patterns, I prefer to use thermal fabric (how to make thermal fabric see here, only when using thermal fabric you are 100% you can be sure that your pattern will not shift when stitched onto the product.
Glue "Prym" can be bought in needlework stores, as it is designed specifically for tailoring.
Adhesive "3M 75"

Spray adhesive for temporary fixation of light materials such as: paper, cardboard, acetate film, foil, plastic sheets, etc.
It has an odor, so use it in a ventilated area. Unlike Prym glue, 3M 75 really has no color and sticks materials better.
This glue holds fabric better than Prym glue, but it also starts to peel off after a while.
This glue is sold in the departments of building materials and tools, that is, in stores that are not intended for sewing needlework. But this is the glue that is most often used when sewing gymnastic leotards.
Therefore, if you decide to use this particular glue, I recommend that you read the text on the glue bottle itself.
All the same, the fact that 3M 75 glue is not sold in needlework departments, but in hardware stores and tool departments - this also indicates that it is intended for other purposes, and not for tailoring. It is written on the glue that it is also intended for fabric, but it does not indicate what it is for sewing clothes, and it is not for nothing that they do not sell it in needlework stores such as Leonardo, Igolochka, Sezon and etc.
I clarify that in my blog I write only my personal opinion, and do not claim that this is the case. Personally, I liked the 3M 75 glue more in use, but I don't use it for sewing gymnastic leotards because of the warnings on the label that is glued on the can of this glue. Before working with glue, I always read the instructions for use on the can first, and especially the precautions, and only then decide whether to use glue or not.
When using any glue, you must understand that even after washing, all the glue will not come off the fabric, in case you sprayed the glue directly on the fabric itself. If I need to fix the stencil on the fabric, then I apply glue not to the fabric, but to the stencil itself, and in such cases the glue does not spoil the fabric.
In addition, after applying glue to the fabric, it begins to wrinkle strongly. In tailoring swimsuits this is not very important, but in tailoring circus costumes it creates unnecessary difficulties.
Thank you for reading my article. I hope that it will help you in choosing a glue that will not only help you in sewing suits, but will also be safe, both for the master who used this or that glue, and for the customer who will wear the tailored suit.